CITY HIGHLIGHT, APRIL 2011
GREENVILLE CITY HIGHLIGHTS
Harry Croxton, Bill Crawford, Brian Reed & Richard Barrett
Greenville Retail Market
After several years of decreased demand, the Greenville and Spartanburg retail markets showed signs of improvement in mid-2010. That trend has continued into 2011 and is gaining traction.
While retail vacancy rates have stabilized, lease rates decreased approximately 5 percent from a year earlier, primarily due to motivated landlords placing occupancy as a top priority. A mid-2010 report by CBRE placed vacancy rates just under 12 percent in the Greenville area, while that same report found a nearly 13 percent retail vacancy rate in the Spartanburg market. Average asking direct lease rates in Greenville were hovering just under $12 per square foot at the end of 2010 and just under $10 per square foot in Spartanburg, but asking rates varied widely throughout the submarkets—from below $10 per square foot in some suburban markets to in excess of $20 per square foot in Greenville's Woodruff Road corridor.
Late 2010 brought some resurgence of development activity to Menin Development's Magnolia Park, the site of the former Greenville Mall located on Woodruff Road. A new Rooms To Go Superstore opened in late 2010 while development continues on site for two new restaurants: Cheddar's and La Parilla, both chains making the Woodruff Road location their first in the state. Plans are underway for two additional retail buildings in the development. Tenant names are yet to be announced.
Also on Woodruff Road, Crosland's The Shops at Greenridge leased the 29,000-square-foot former Linens N' Things to Buy Buy Baby, while Hughes Development's re-development of the former BJ's Wholesale saw the addition of South Carolina's first Trader Joe's, completing the project anchored by Academy Sports & Outdoors.
The area's largest development project is underway in suburban Greenville. Cedarwood Development is developing the 535,000-square-foot Easley Town Center, to be anchored by Super Wal-Mart and Kohl's. The center's anticipated completion is mid-2011.
Greenville's downtown has continued to attract tenants during the recent downturn, now home to 95 restaurants and 91 retail establishments according to a 2010 report by the City of Greenville's Economic Development Office. Current projects under construction include a 36,000-square-foot mixed use development at the corner of Main and McBee streets. The two-story building, being developed by KDS Properties, will feature a CVS Pharmacy on street level with Class A office above. RiverWalk, a 90,000-square-foot mixed-use project is underway at the corner of River Street and Camperdown Way. Developed by Phil Hughes, the project will contain retail space at street level, eight artist studios, three office spaces, 40 three-bedroom and four two-bedroom apartments. Under construction adjacent to renowned RiverPlace, RiverWalk anticipates delivery in mid-2012.
Also, in the CBD, TIC Properties is soon expected to announce resumption of previously stalled plans for a major development on the site of the former Woolworth's department store. Located on 2 prime acres along Main Street, the mixed-use project is expected to include retail, office, restaurant and residential space. Encompassing the majority of a city block, the project is expected to transform one of the last significant parcels in the heart of the city center that has yet to be developed.
— Harry Croxton is with Greenville, South Carolina-based NAI Earle Furman, LLC.
Greenville Multifamily Market
The upstate of South Carolina is the fastest growing region in the state, and given its strategic position between Atlanta and Charlotte, future development and growth prospects remain very promising. Greenville itself is home to more international manufacturing investment per capita than any other community in the U.S. and includes such names as BMW, Michelin, GE, Fluor and Lockheed Martin. In 2009, it was ranked number 1 by fDi Magazine under their "micro cities of the future," based on criteria including economic potential, human resources, cost-effectiveness, quality of life, infrastructure, business friendliness and promotion strategy. It was lauded as having the top economic potential of any North American city of its size and the second best business climate.
The upstate is also home to the Clemson University International Center for Automotive Research (CU-ICAR), which is supported by BMW, IBM, Microsoft and Michelin, who have combined their resources in a research park that specializes in the development of automotive technology. This institution is expected to spin off continued growth of automobile related companies and related jobs.
BMW Manufacturing has announced another $100 million investment to its automobile assembly facility, just as it is putting the finishing touches on a new $750 million assembly line and paint shop alongside the original plant constructed 18 years ago. Associated with this automotive growth is the location of Proterra LLC's assembly plant for a revolutionary new electrically powered bus. As many as 1,300 new jobs are forecast in a $68 million plant and research facility. The county unemployment rate dropped from 8.8 to 8.2 percent in 2010 with manufacturing job growth expected to lead the recovery with 4,000 jobs in 2011. A final item of note is the recent start of service to the upstate by Southwest Airlines. The "Southwest Effect" is estimated at $65 million in business development.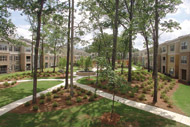 The beautiful park area at The Verandas at The Point, the first phase of which is completed
Activity in the apartment market during the last year has been very limited. The only significant properties changing hands were 144 units in Beacon Ridge, which traded for $38,194 a unit, and Alta Brookwood whose 256 units sold for $78,906 a unit. New construction was also limited to the completion of the 349 units—first phase—of The Verandas at The Point by Flournoy Properties, and two tax credit deals, which include the 37 units of Prestwick at Augusta Street and Brookside Gardens' 55 units. Nothing new is currently under construction, however McCall Capital has 232 units planned for the old Hillandale Golf Course site on the west side of Greenville. McCall has HUD approval and expects to break ground in early summer with The Enclave at Paris Mountain. Woodside Partners has a 260-unit property planned for Woodside Mill. Two tax credit deals were approved in 2010 for 64 units called The Parker at Cone and Willow Crossing, containing 48 units in Spartanburg. Other Spartanburg projects include The Bristol, 284 units, Midtown, 72 units, and Reserve at Park West, 144 units. Anderson has two projects under construction, which include Hampton Crest with 64 units and Hampton Greene, a 72-unit project.
Occupancy rates trended upward the first half of 2010 to 95 percent and then drifted slightly down, beginning this year at 93.4 percent. Currently they stand at 94.2 percent with the expectation of continued improvement due to the lack of new product coming on line. The decline in rent rates has been reversed with the improved occupancy rates. The average rent has increased 2.4 percent the last six months to $673 according to Real Data. The most desirable product has been Class A space as close to downtown as possible and at least two sites are currently being considered for downtown apartment development.
— Bill Crawford is the president of Greenville, South Carolina-based Crawford Associates, a commercial brokerage firm specializing in multifamily.
Greenville Office Market
The Greenville-Spartanburg market comprises of more than 11 million square feet of for lease office space. Typical market absorption, the net change in occupied space, comes in at about 250,000 square feet per year. Last year, absorption was limited to about half of that pace, which was relatively strong considering the state of the economy. Typical market absorption is not expected to be achieved until 2012, at the earliest, largely due to lackluster employment performance at the local level.
Asking rates stand at just under $21 per square foot for Class A space in the Greenville CBD and just over $13.50 per square foot for Class B space in the suburbs. Vacancy currently stands at just under 17 percent and is expected to remain relatively flat through the next 12 months. Being a small market, however, one large transaction or vacancy can impact the numbers a great deal.
Among new development in the market is the new Main at Broad building, which is a mixed-use project including a 135-room Courtyard Marriot, one floor of retail and five floors of office space. The project, delivered in 2010, brought 55,000 square feet of speculative space to the Greenville CBD.
One new office building is under construction, the 60,000-square-foot Center for Emerging Technologies, which is the latest building at Clemson University International Center for Automotive Research (CU-ICAR). CU-ICAR is an automotive research campus that provides an opportunity for private research to work directly with academia. The campus has been successful in recruiting new office users to the market. Only 8,000 square feet remains available in the upcoming building. The most significant tenant in the new building will be Sage Automotive, which was formerly a division of textile and chemical company Milliken, based in Spartanburg. The building is expected to be completed this year.
A newly announced mixed-use project, Riverwalk, will bring 30,000 additional speculative office square feet to the Greenville CBD in 2012. In addition, the project will bring with it 40 apartments.
The three projects have a common theme: unconventional financing in the form of some sort of grant or public-private partnership. In the current financial climate, orchestrating financing, especially in a small market such as Greenville, will prove to be a challenge.
This bodes well for current owners of office space as little speculative development is expected in the next 5 years, meaning new users to the market will either have to find space that is currently available or wait for build-to-suit product to be built.
More good news for the market is the start of airline service from discount airliner Southwest to Greenville-Spartanburg International Airport (GSP). In addition to helping address costs, having more flights with a larger variety of destinations will help offset the perception of Greenville being a small market.
— Brian Reed, AICP, is a vice president with Greenville, South Carolina-based CB Richard Ellis | The Furman Co.
Greenville Industrial Market
Building on the year-end strength of 2010, the industrial market has been a continuing success story for the upstate of South Carolina in the first quarter of 2011. Activity has continued to strongly rebound, and the diversification of industry is encouraging. Factors driving this growth include a significant expansion of the automotive sector, considerable offshore investment, expansion of existing local enterprises and a hot trend of U.S. corporations seeking to grow their stakes in the upstate, bringing new players to our marketplace. Couple this with the growth of alternative energy enterprises, ranging from wind turbines to electric vehicle technology and a more pro-business state government, and the future is very promising. As each of these industries grow, the upstate will experience a domino effect that will act as a solid building block for the future economy.
At the end of first quarter 2011, vacancy rates are at 10.7 percent, an improvement from 10.8 percent at the end of fourth quarter 2010. Vacancy has been steadily decreasing since the beginning of 2010, when rates were at an all time high at 11.2 percent. We determined this to be the bottom of the market and, now, are inching back to healthier rates, such as those at the end of 2008 where vacancy was at 10.4 percent, before the downturn was in full effect for the industrial market.
While the vacant warehouse/industrial square footage that was absorbed is estimated to be at least a positive 103,000 square feet, this is tempered by a short term negative absorption rate of 126,000 square feet of flex space for the first quarter. Overall absorption has been aided by a downward adjustment in rental rates. Starting with an overall rate for the market of $3.18 per square foot at the beginning of 2010, this rate is currently estimated to be $2.96 per square foot. This decline has been a critical driver for absorption, but recent indicators will seem to suggest a bottoming occurred at year-end 2010 with a rate of $2.93 per square foot. All predictors for 2011 suggest a continued increase in the rate throughout the year.
A further indicator of the growth in the area is the size of projects either recently finished or now underway. In October of 2010, BMW Manufacturing officially opened its 1.2 million-square-foot assembly hall. This expansion brought their investment in the upstate to $4.6 billion. New expansion plans for this year will add another $100 million to this total.
ZF Group has broken ground on a $350 million plant on 127 acres in Laurens County. This plant will bring 900 jobs to the area and will be the site for assembly for the world's first nine-speed transmission.
In addition, just in the past 5 years, companies such as CT&T, Unitex, American Titanium, Southwest Airlines and many others have targeted investments of more than $1.1 billion combined and will provide the upstate with the opportunity for more than 4,200 jobs.
This is all good news for our market and the projected recovery of 2011 has been proven in the first quarter. We will look forward to a strong year.
— Richard Barrett is an industrial broker with Greenville, S.C.-based Bentley Commercial, LLC.

©2011 France Publications, Inc. Duplication or reproduction of this article not permitted without authorization from France Publications, Inc. For information on reprints of this article contact Barbara Sherer at (630) 554-6054.