FEATURE ARTICLE, MAY 2004
MIXED-USE SPOTLIGHT
Jaime Lackey


Atlantic Station
Atlanta, Georgia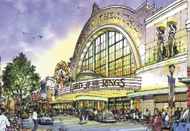 Jacoby Development and AIG Global Real Estate Investment Corporation are developing Atlantic Station in Atlanta. The $2 billion, 138-acre brownfields redevelopment project is turning the former Atlantic Steel Mill into a thriving community in Midtown Atlanta. Beazer Homes has developed 56 townhomes along 16th Street. Already, 50 of the townhomes are occupied with six more under contract. Twelve single-family attached units have been sold and an additional 25 are up for sale.
Lane Company has 347 condominium and 231 apartment units underway. Lane also plans to build residential lofts above retail development that is currently underway. These lofts will be ready for occupancy in mid-2005.
Hardin Construction recently completed the first office building at the development, the 21-story 171 17th Street building, which is anchored by SouthTrust (95,000 square feet); law firm Arnall Golden Gregory (135,000 square feet), which will move into the building in October; and law firm Burr & Forman (35,500 square feet). The building is on track for LEED (Leadership in Energy & Environmental Design) certification as governed by the United States Green Building Council.
Approximately 150,000 square feet of office space is planned above retail space, and mid- to high-rise office towers will be built based on market demand.
VCC has built the "foundation" for the retail portion of the project: a 7,000-car parking deck. With more than 1.5 million square feet of retail and entertainment space planned for the site, this foundation is important. VCC will begin building retail on top of the parking deck this summer. Retailers will begin opening in mid-2005. IKEA, a Sweden-based home furnishings retailer, has purchased 15 acres for a two-level 366,000-square-foot store, which will open in summer 2005. Other retailers that have signed on at Atlantic Station include American Eagle, Victoria's Secret, Express, Bath & Body Works, Pier 1 Imports, The Improv Comedy Club, Chaplin's Jewelry, Publix, Dillard's, Eye Gallery, Regal Cinemas and Metropolitan Deluxe. Restaurant tenants at Atlantic Station will include PJ's Coffee and Wine Bar, Copeland's Cheesecake Bistro, Rosa Mexicano, Claddagh Irish Pub, Moe's Southwest Grill, Mama Fu's Noodle House, California Pizza Kitchen and Lucid.
When complete, Atlantic Station is projected to include 6 million square feet of office space, 3,000 to 5,000 residential units, 1.5 million square feet of retail space and 1,000 hotel rooms.
World Commerce Center
St. Johns County, Florida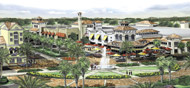 Jacksonville, Florida-based Steinemann & Company is developing World Commerce Center, a 966-acre mixed-use complex in St. Johns County, the fastest growing county in the greater Jacksonville area. The development has been approved for 2.19 million square feet of office space, 909,000 square feet of retail/commercial space and 406,000 square feet of light industrial uses as well as 1,000 hotel rooms and 1,156 residential units.
Located at the intersection of Interstate 95 and International Golf Parkway, World Commerce Center offers one of the last opportunities for direct-access interstate frontage in northeast Florida. The development is also near Interstate 295 (within 15 miles) and an hour's drive north of Interstate 4, giving easy access to Orlando and Tampa.
Steinemann has been working on the project since spring 2003, when site work began on Ring Power Corporation's new corporate headquarters. Ring Power, one of the largest Caterpillar heavy equipment distributors in the United States, has chosen World Commerce Center for a 95-acre, 354,000-square-foot complex facing Interstate 95. The company's 500 employees plan to occupy the new headquarters facility by early first quarter 2005. Steinemann reports being in final negotiations with another top corporate relocation prospect. Potential office users can purchase or arrange for build-to-suit on parcels as large as 80 acres.
With a daily traffic count of 114,500 cars per day on Interstate 95 along the World Commerce Center site, Steinemann expects to attract top retailers as well as corporate users. Power center retailers and regional mall developers have contacted the company.
Progress currently underway includes access roads for the entire development and initial site work for 405 residential units in the western half of the development, which will start construction in June.
The master plan for the development locates multifamily housing around the town center and other centralized areas, while single-family residential will generally be located on the western half of the development.
Metropica
Sunrise, Florida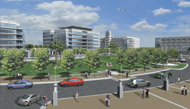 JV Developers, a partnership between Miami-based K-Group Holdings and Coral Gables, Florida-based Codina Group, is developing Metropica, a 65-acre mixed-use development at Sunrise Boulevard and Panther Parkway in Sunrise, Florida. The $160 million first phase will cover 26 acres and will include 500,000 square feet of office space in four buildings, 363 condominium residences in two eight-story towers and a 60,500-square-foot upscale restaurant village featuring five free-standing restaurants and retail pavilions.
Groundbreaking will be in May, with infrastructure for the first phase complete by the end of this year. The condos, the first office building and restaurants will commence construction late this year or in early 2005.
Codina Development will develop the office buildings; Codina Construction will be the general contractor. The design plans for the speculative office buildings are currently underway. Occupancy in the office buildings is slated for the end of 2005, and the space will target professional corporate users needing 5,000 square feet or more. Full-floor users will occupy about 23,000 square feet.
Residential condominium units will average 1,300 square feet, and will range from $250,000 to $450,000.
The developers are pursuing diverse restaurant tenants such as an Asian bar and grill, a Brazilian steakhouse, an Italian trattoria and a New York-style lounge and martini bar. Jeffrey Sussman of Sussman Restaurant Brokerage is the exclusive marketing agent for the Restaurant Village.
Richard Heapes of Street-Works created the conceptual land plan. Architecture firm Cooper Carry designed the office complex. EDSA is also part of the design team.
Main Street at South River Colony
Edgewater, Maryland
Main Street at South River Colony is a $25 million, 9-acre development in the 1,400-acre South River Colony master-planned community in Edgewater, Maryland, just south of Annapolis. Exxon Development Corporation developed the existing community in the early 1990s; it features $1 million homes, luxury townhomes, a 225-unit active adult community and a retail component.
The Main Street development is located on Mitchells Chance Road, near the intersection of Maryland Route 2 and Maryland Route 214. It will include a four-story office building, which will deliver in fourth quarter 2004, and six retail buildings totaling 126,000 square feet. Annapolis Developers LLC has completed the first three retail buildings at the Main Street at South River Colony.
The Original Steakhouse & Sports Theatre, a 200-seat restaurant, opened in November 2003 and occupies a 7,400-square-foot building. Several retailers have opened including Blockbuster Video, Coffee Beanery, House of Frederick (a furniture store), Liz Lind Editions (an art gallery), Peepers Family Eye Care Center, Shore Living (an outdoor furniture/fixtures shop), Tropical Exposure (a tanning salon) and Big Chicks Little Chicks (a maternity and infant clothing shop). Body Wellness (a day spa and salon) will open by early May, while ReMax Innovations is scheduled to open later this year.
Manekin LLC will handle leasing and management at Main Street at South River Colony.
Waverly Construction is the general contractor. Rosenburg A+1 designed The Original Steakhouse & Sports Theatre building. Martin Architectural Group designed the remaining buildings.
The development offers a visual appeal in that several of the buildings will be modeled after specific downtown Annapolis buildings, including one 48,000-square-foot office building resembling the municipal building and two buildings resembling the bank and fire station, which will each house retail and restaurant space. Rosenburg A+1 designed the firehouse building, which is scheduled for delivery at the end of the summer.
Main Street at South River Colony is also local to amenities at South River Colony, including the 250,000-square-foot Market, the local post office and police station, and the Anne Arundel County Library. Additionally, the development offers retailers attractive demographics in a 3-mile radius: a 2001 population count of 20,500 with an average household income of $98,500.
Northshore Town Center
Knoxville, Tennessee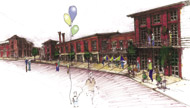 Northshore Town Center is a 141-acre mixed-use development on what is known locally as the old Sterchi farm, located at Northshore Drive and Pellissippi Parkway in Knoxville, Tennessee. The $180 million New Urbanism development will include single-family homes, townhomes, retail shops, entertainment venues, offices and a hotel. Charleston, South Carolina-based James Doran Company is developing the project, which will feature an architectural style similar to the historic districts of Charleston.
The center's Main Street will have two-story buildings featuring ground-floor retail with offices and residences on the upper levels. The development will feature 300,000 square feet of office space; 225,000 square feet of big box retailer space; 175,000 square feet of small shop space; a 65,000-square-foot, 16-screen theater; 40,000 square feet of restaurants; 450 apartment units; 150 townhomes; and 120 single-family lots.
Construction will begin this year with retail portions to be constructed first. Companies on the project team include Barge Waggoner Sumner & Cannon (civil engineering/traffic engineering); Design: Clark (a graphic design company); Design Works (land planning); Gibson & Associates (residential architect); Walter M. Kulash and Glatting Jackson Kercher Anglin Lopez Rinehart (traffic engineering); The Housing Studio (residential architect); Randall-Paulson Architects (project architect); and RTKL (architect).
River Garden
New Orleans, Louisiana
The River Garden mixed-use redevelopment project, formerly known as the St. Thomas HOPE VI project, will include 100 condos, 322 senior housing units, 73 for-sale homes, 531 apartment units, 240,000 square feet of commercial and retail space, a 3-acre park and 150 off-site housing units. The 61-acre site is located along the Mississippi River near downtown New Orleans.
Historic Restoration Inc. (HRI) is developing the project; HCI Construction and Design is HRI Group's in-house staff of architects, interior designers and construction managers. The first phase of the project will include 296 mixed-income housing units. Roemer Developments is developing a continuing care retirement community at the project site. Wal-Mart is constructing a 200,000-square-foot Supercenter, which will open in early fall.
The second phase of the project will include 200 mixed-income housing units and 40,000 square feet of neighborhood retail space. Chan Krieger & Associates and Billes/Manning are handling the architecture and master planning for the second phase. HCI plans to begin construction on the second phase in summer 2005.


©2004 France Publications, Inc. Duplication or reproduction of this article not permitted without authorization from France Publications, Inc. For information on reprints of this article contact Barbara Sherer at (630) 554-6054.